Facebook's (NASDAQ:FB) timeline since going public has many blemishes on it. Between its initial debut on the Nasdaq and well publicized insider selling, the social media giant has experienced enough obstacles to last a lifetime. Shares of the company declined after reporting its latest quarterly results, but Facebook continues to grow its social presence.
After Wednesday's closing bell, the world's largest social media company released earnings for only the third time since going public last May. Facebook posted a profit of $64 million (3 cents per share), compared to $302 million (14 cents per share) a year earlier. Excluding share-based compensation and tax items, earnings came in at 17 cents per share, topping estimates by 2 cents.
Although the bottom-line took a 79 percent hit on a GAAP basis, Facebook is still growing its amount of users.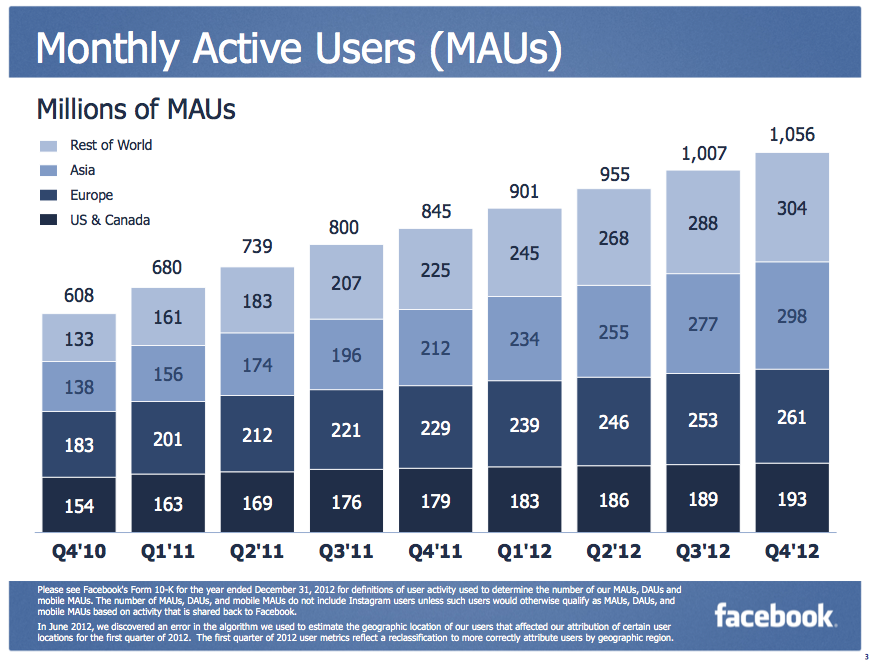 As the chart above shows, Facebook attracted 1.056 billion monthly active users, as of the end of December. This represents a 4.9 percent increase from the prior quarter, and a 25 percent jump from a year earlier. Last October, Mark Zuckerberg, co-founder and chief executive officer, announced that Facebook reached a total of 1 billion active users worldwide.
Daily usage is also on the rise…