Here's your Cheat Sheet to the top tech business stories of the week:
Are these stocks a buy or sell? Let us help you decide. Check out our Stock Picker Newsletter now >>
Nokia Corporation (NYSE:NOK): Current price $4.58
Nokia has earned a respite from results pressures with its quarterly report that was better than was anticipated. Now, the Finnish firm has improved prospects and options to aid its efforts to sit beside Apple and Samsung in the smartphone market and also time to continue marketing its new Lumia handsets that were launched in November. The devices have recently gone on sale in pivotal markets like India and China; Nokia is staking future smartphone success on those products. Analyst François Meunier at Morgan Stanley commented that "Reasonable Lumia volumes and much better margins and guidance in devices could reframe the debate on the longterm sustainability of the handset manufacturing business."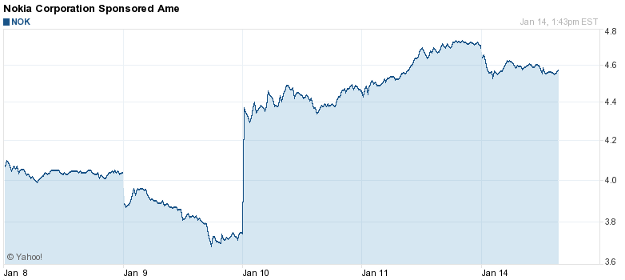 Apple (NASDAQ:AAPL): Current price $502.66
Knowledgeable sources report that weaker-than-anticipated demand has prompted Apple to reduce its orders for components for the iPhone 5. Orders for screens for the phones have been slashed for the first quarter to around half of what had been previously planned and it is said that Apple has cut its orders for components other than screens.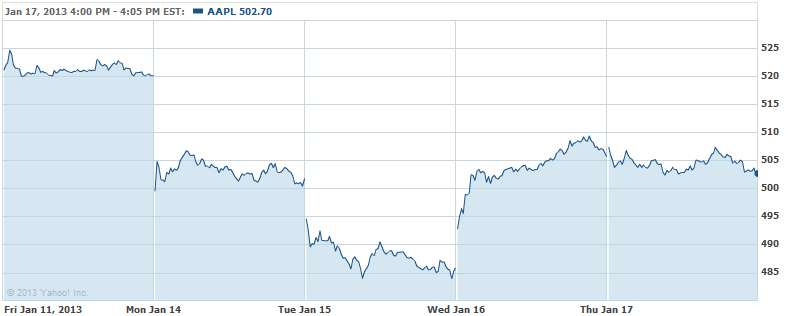 Hewlett-Packard Co. (NYSE:HPQ): Current price $16.73
Chief Executive Meg Whitman was paid almost $15.4 million in fiscal 2012, which was her first full year as chief executive, although this tidy sum was but 70 percent of her targeted compensation, since the company posted a net loss for the year. Whitman, who took a salary of $1 in 2011, enjoyed a performance-related bonus of $1.7 million, more than $7 million in stock awards and $6.4 million in options, according to a filing released on Friday. Whitman became chief executive in September 2011 just before the end of that fiscal year, and for that period, her compensation was $16.5 million.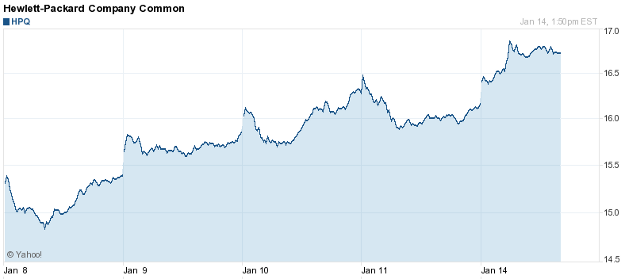 USA Technologies (NASDAQ:USAT): Current price $2.15
USA Technologies has reached ten new exclusive accords with existing customers during the second quarter. The agreements call for exclusive use of the company's comprehensive ePort Connect service and are of three years in duration. Customers involved with the arrangement represent current USAT customers who are regional vending firms as well as a Pepsi distributor.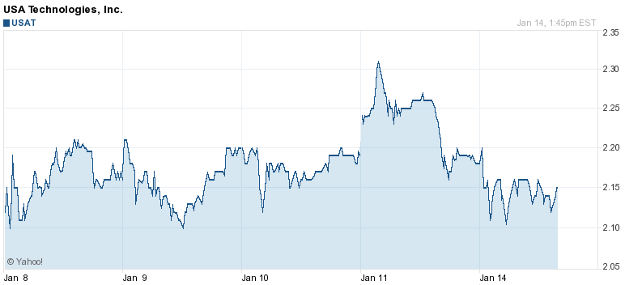 Dell (NASDAQ:DELL): Closing price $12.29
Knowledgeable sources say that Dell is in buyout discussions with private-equity firms, and the subject is the possibility of taking the personal-computer maker private, after it lost nearly one third of its value in 2012. Talks are going on with a minimum of two firms, say the sources, who add that the discussions are preliminary and could collapse because firms may not be able to obtain the financing, or resolve how to leave the investment in the future. A number of large banks have been contacted regarding the provision of funds; Dell had a market value of $18.9 billion as
Facebook (NASDAQ:FB): Current price $30.95
On Monday, Deutsche Bank has upgraded Facebook from Hold to Buy with a price target of $40, raised from $24. DB explained that the company has more revenue momentum than any other that it covers, heading into the new year, and that Mobile Newsfeed Ads are the game-changer, and the acceleration is much faster than was anticipated. The analyst predicted that ad revenue in 2013 should grow by 40 percent, which is well above estimates.
Start 2013 better than ever by saving time and making money with your Limited Time Offer for our highly-acclaimed Stock Picker Newsletter. Click here for our fresh Feature Stock Pick now!