When it comes to material for hating on large financial institutions, there is not a supply shortage by any stretch of the imagination. From the infamous American International Group (NYSE:AIG) bailout to Goldman Sachs (NYSE:GS) "doing God's work" and calling clients "muppets," banks seem to provide an endless amount of disregard for public opinion. This has caused some critics to band together and provide a channel for anger release.
It was reported in late 2010 that Bank of America (NYSE:BAC) purchased hundreds of internet domain names that were critical of the bank's top management. Names involving the bank's CEO such as BrianMoynihanBlows.com and BrianTMoynihanSucks.net were registered by MarkMonitor, a strategist for protecting corporate brands. Apparently, the most subtle names were overlooked. Earlier this week, a bogus website called yourbofa.com was launched. The website, which closely resembles the real BofA website, provides an outlet for general public dissatisfaction with current banking practices. Bengo Guenther, a spokesman for the website, explained to the Huffington Post that the project is the work of Yes Men, Rainforest Action Network and New Bottom Line.
Don't Miss: Bank of America Earnings Call Nuggets: FICC, Expense Trends
Visitors to the site are first greeted by an official-looking letter supposedly from Moynihan. The letter explains, "The institutions you rescued in 2008 have continued much as they always were, engaging in the same practices that brought our economy so close to collapse. To make sure that this time around, things turn out differently, we at Bank of America are launching a forum in which you, the American taxpayer, can prepare for the time that you own us. By sharing ideas, and reading and rating the ideas of others, you can begin charting a course for this Bank—your course."

The website also has a "Lessons Learned" section which discloses several key liabilities facing Bank of America. For example, the site says, "Our Bank is today facing over a dozen major lawsuits for selling fraudulent securities to institutional investors. Though we have settled for $8.5 billion in damages with one such group of investors, we still face a further $10 billion in similar claims from AIG, and $700 million more from Allstate (NYSE:ALL), as well as a fraud suit for just over $1 billion by U.S. Bancorp (NYSE:USB)." Perhaps the most entertaining section of the website is the "Get Creative" section, which allows visitors to craft their own slogans, as seen below.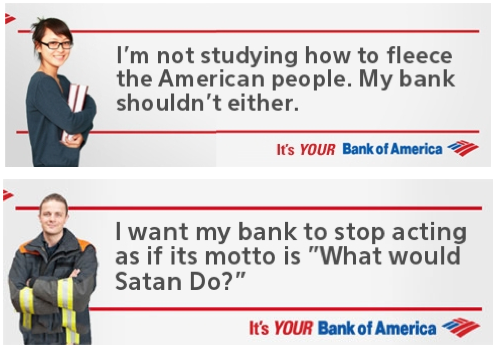 Bank of America's list of headaches do not end with the bogus website. On Friday, Bloomberg reported that the Consumer Financial Protection Bureau is reviewing bank practices involving overdraft fees. The agency is scrutinizing several large banks, including: Bank of America, U.S. Bancorp, Citigroup Inc. (NYSE:C), JPMorgan Chase & Co. (NYSE:JPM) and Wells Fargo & Co. (NYSE:WFC).
Bloomberg explains, "The inquiry focuses on how financial institutions persuade customers to enroll in what they call overdraft protection programs. Examiners are looking at online and mailed marketing material as well as scripts used by the banks' customer-service representatives to determine whether they could be confusing to consumers." In the past two years, bank customers have paid $64.7 billion in overdraft fees, according to Moebs Services. Large banks charge an average of $35 per overdraft, while community banks and credit unions charge an average of $25.
Bank of America shares declined more than 4 percent on Friday after reporting dismal financial results for the first quarter the day before. The second largest bank by assets announced that net income fell 68.1 percent to $653 million (3 cents per share), compared to $2.05 billion (17 cents per share) a year earlier. Analysts from Credit Agricole also downgraded shares from Underperform to Sell with a price target of $8.
Investor Insight: Major Investigation Could Snuff $31.6 Billion Business for Banks