Although the fiscal cliff debacle has reached a temporary solution, the side effects on consumers are still being seen. A new report shows that online holiday spending reached record levels last year, but was hindered by the bickering in Washington.
According to comScore, a leader in measuring the digital world, retail e-commerce spending in the final two months of 2012 totaled $42.3 billion, representing a 14 percent increase from the same period a year earlier. The holiday season had some notable highlights in November with impressive gains on Thanksgiving and Black Friday, but a slowdown was seen before and after the two shopping day extravaganza.
Catalysts are critical to discovering winning stocks. Check out our newest CHEAT SHEET stock picks now.
As the chart below shows, Thanksgiving Day and Black Friday posted gains of 32 percent and 28 percent year-over-year, respectively. E-commerce activity increased a whopping 76 percent on Free Shipping Day, but not enough to make up for the slowdown. Overall, total e-commerce spending fell about a billion dollars short of comScore's estimate.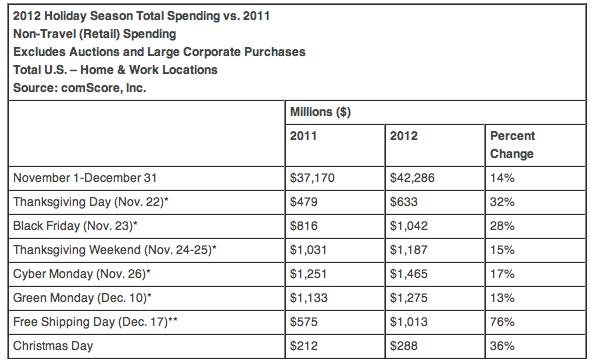 Gian Fulgoni, ComScore Chairman, explains the disappointment…