Just this week, Ford (NYSE:F) unveiled its ambitious roadmap for 2014, which is meant to build upon the momentum that the automaker has been steadily building up for the past couple of years. This new plan includes three new plant opens next year (two in China, one in Brazil), 23 new product launches worldwide, 5,000 new jobs created in the U.S., and so on. The 2014 product rollout will include more product launches "than in any other year in our history," said Ford President of the Americas Joe Hinrichs.
The company has remained rather mute about the details of what 16 vehicle debuts 2014 will hold, though a few of them have been confirmed or revealed by Ford. "This is the fastest and most aggressive manufacturing expansion the company has undergone in 50 years," said John Fleming, executive vice president of Ford global manufacturing. "The last time Ford was growing like this, Dwight D. Eisenhower was the U.S. president." Here are a handful of vehicles that you can expect to see from Ford next year.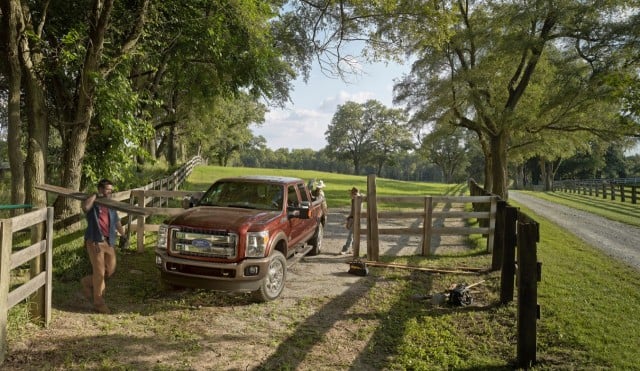 1. Ford F-Series
On Ford's schedule next year is the 2015 model of the Ford F-Series Super Duty pickups, which is pictured. Under the hood will be a 6.7 liter turbo diesel engine that boasts a slew of upgrades like a larger turbo, a new fuel pump and injectors, and a new temperature management system. Three new colors have been added to the roster; buyers can expect to see the new model hit showrooms in the Spring.