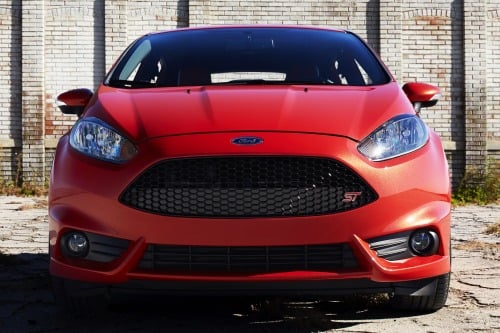 The Ford (NYSE:F) Focus ST certainly made waves when it was debuted, as it should have. The hot hatch, a relatively minor segment on this side of the Atlantic, boasts a turbocharged 2.0-liter, four-cylinder unit, which is good for a healthy 252 horsepower and more than 30 miles per gallon the highway.
While the Focus ST showed Americans what Europeans have been enjoying for some time, it was only the first chapter of Ford's hot hatch playbook, and the company has just introduced Chapter Two: the Fiesta ST, which nestles comfortably below the Focus as a more entry-level friendly option.
Rather than the Focus's mental 250-plus horsepower unit, the Fiesta ST features a more civilized 197 horsepower, turbocharged 1.6-liter in-line four. That's still pretty potent for a car the size of the Fiesta — the power is sent to the front wheels. All told, the Fiesta ST weighs in at about 2,700 pounds.