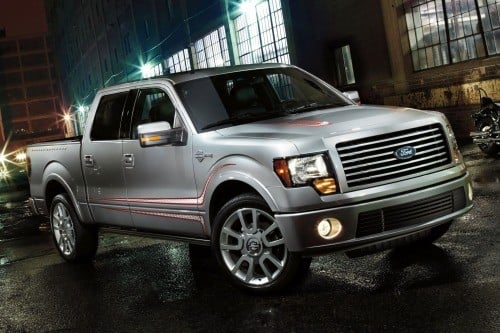 After a run of more than ten years, Ford (NYSE:F) has quietly announced the discontinuation of the Harley-Davidson (NYSE:HOG) edition of its ubiquitous F-150. The optional trim accounted for a mere 1 to 2 percent of total sales for the F-150 line and, additionally, Ford has been more aggressive in rolling out homegrown high-trim models, such as the Limited and Platinum.
Doug Scott, Ford's manager of truck marketing, was quoted as saying: "We don't have plans for one at the moment…we've got ten models including a brand-new Limited Model, which was new for 2013. We feel like we've got the market really well covered."
Given the success of homegrown trim levels such as the Limited, dealers are reportedly not terribly upset over the axing of the Harley edition, as the higher-end Ford trims have been comfortably surpassing expectations.