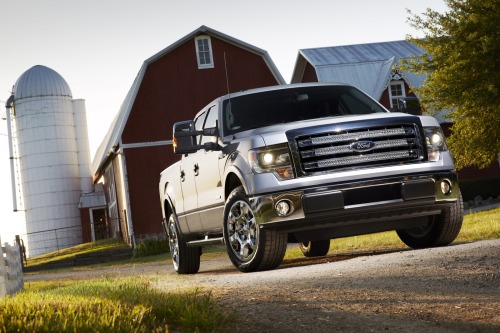 It seems that Ford's (NYSE:F) response to tightening fuel economy standards has been to take a cue from the military. The automakers' next-generation F-150, the classic Ford pickup that has driven the company's business for decades, will shed up to 750 pounds in its next incarnation, said Mark Fields, who is rumored to be the company's next CEO. That's a roughly 15 percent weight reduction from the current F-150 model, Bloomberg reports.
And the key to such significant weight loss? Aluminum. Considerably lighter than the steel currently used to build the truck, the switch will help the company meet new, rigid fuel economy standards but may cost Ford the favor of truck buyers. Ford will have to convince consumers who are devoted to the current steel F-150 that aluminum can be just as tough and durable.
The decision to switch to an aluminum body is quite a gamble for the Dearborn, Michigan-based automaker. If Ford fails to convince its consumers that the aluminum F-150 is just as good as its previous incarnation, then the company could face severe consequences. Ford is already predicting a decline in earning for next year, an outlook that could worsen if the new F-150 doesn't sit well with buyers.