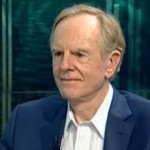 In an interview yesterday on CNBC Asia, former Apple (NASDAQ:AAPL) CEO John Sculley said Apple is currently experiencing a "lull in innovation" and won't experience a "creative leap" for several more years. John Sculley was the CEO of Apple during one of its "golden-eras," from 1983 to 1993.
Sculley characterized the last decade as a being a "creative leap" era, which saw the introduction of new technologies like 3G mobile wireless and the advent of social media. As a "creative leap company," Apple was able to capitalize on these innovations and saw fantastic growth and success as a result.
However, Sculley believes that we are now in what he calls a "fast follower decade." "It's a time where we're not at a big breakthrough point in time, but where fast followers excel – so Samsung (005930.KS), an excellent fast follower is doing really well," Sculley said.
Although admitting that he had "no idea" if Apple was already involved with sensor technology, Sculley pointed to sensor technology as being one of the next big areas of creative growth. Although Apple has adapted some sensor technology with its iOS Passbook app, it has yet to release Apple devices with NFC support.