With the temporary solution of the fiscal cliff brining higher taxes to the majority of Americans earning a paycheck, the new year was already set to be difficult for consumers. Now, rising gasoline prices across the nation are adding insult to injury.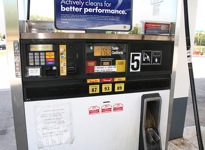 Despite the typical driving season being a few weeks away, prices at the pump have climbed higher for more than 30 consecutive days. According to the AAA Daily Fuel Gauge Report, the national retail gasoline price hit $3.77 a gallon this week, the highest level in four months.
In comparison, the price was $3.30 in January and $3.57 a year earlier. In fact, gasoline prices have never been higher for this time of the year.
Some states such as California, Hawaii, and New York are already experiencing prices above $4 a gallon for regular grade. Meanwhile, Connecticut is close behind with an average price of $3.98. These states are typically at the top of the average price-at-the-pump list, as they have the help of the highest gas taxes in the nation.
In broader terms, there are several reasons being blamed for higher gas prices…