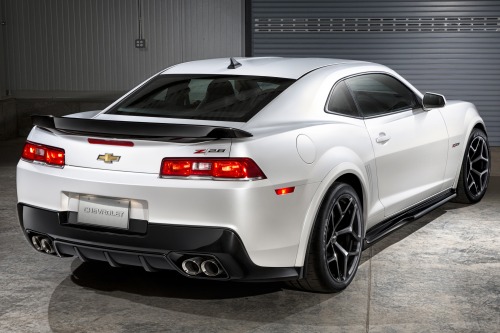 While the new 2014 Chevrolet (NYSE:GM) Camaro is already on dealership lots, the best is yet to come for General Motors's refreshed product line: the Camaro Z/28, which was a surprise debut at the New York Auto Show earlier this year, will be joining its Camaro cohorts in spring 2014.
Like the standard Camaro on which it's based, the Z/28 has been around for quite some time — it was first launched in 1967. It left production in 2002, and The Detroit News reports that enthusiasts have been asking General Motors to bring back the Z/28 since GM brought the Camaro back into production in 2009.
Al Oppenheiser, chief engineer of the Camaro, told The Detroit News that the new Z/28 will lure buyers into Chevy showrooms, and that the new car is an effort being made by General Motors to beat any vehicle that cross-town rival Ford (NYSE:F) puts on the road.