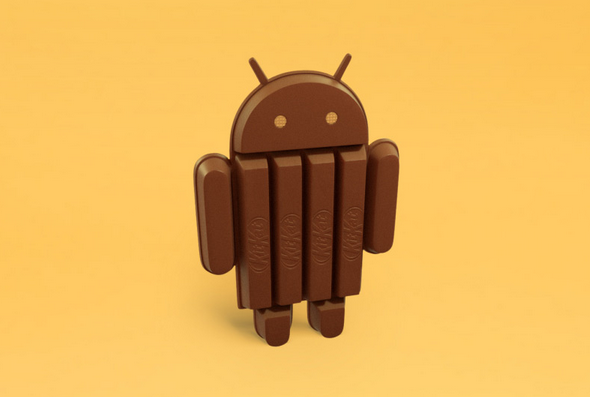 While the new version of Google's (NASDAQ:GOOG) Android operating system has been referred to as "Key Lime Pie" both internally and in the media for months, on Tuesday, Google, in partnership with both Nestle and Hershey (NYSE:HSY), announced that the new version of Android will be called "KitKat."
That news comes along with the announcement that the Android operating system now powers one billion smartphones and tablets around the world, making it by far the most popular operating system. The different versions of Android have been named after desserts in alphabetical order, including Cupcake, Donut, Eclair, Froyo, Gingerbread, Honeycomb, Ice Cream Sandwich, and Jelly Bean. It had been thought that Android 4.4 would be called Key Lime Pie, as the deal with KitKat makers Nestle and Hershey was kept a secret even from Google employees, according to a report from the Verge.
The Verge says there was no money exchanged between Google and the candy-makers who sell KitKats (Hershey makes and sells the candy in the U.S., while Nestle owns the brand throughout the rest of the world). But the candy companies will be helping to promote Android. Fifty million of the popular candy bars sold across 19 countries will have Android promotion on their packaging, as well as a chance to win Google Play credits or a Nexus 7 tablet inside the wrappers. In addition, Nestle has created 50 limited-edition Android-robot shaped KitKat bars.