Gold is not the only precious metal making moves this week. The iShares Silver Trust, which is the biggest exchange-traded fund for silver, added 572 tons of the metal. It is the biggest increase in assets for the BlackRock managed fund since December 2007. The ETF has received inflows of more than $600 million this week, leading all ETFs in the marketplace. According to Bloomberg and Barclays, global investment through all silver-backed exchange-traded products is at a record 19,114 tons.
Demand in silver coins is also showing strength. On Thursday, the U.S. Mint suspended sales of the new American Silver Eagle. In a statement to authorized purchasers, the Mint explains, "The United States Mint has temporarily sold out of 2013 American Eagle Silver Bullion coins. As a result, sales are suspended until we can build up an inventory of these coins. Sales will resume on or about the week of January 28, 2013, via the allocation process."
The 2013 American Silver Eagle was initially released on January 7, 2013. On the first day of availability, the Mint received more than 3.9 million orders, the highest one-day of sales in the history of the program. According to the latest information on the Mint's website, sales have reached about 6 million coins for January and are on pace to surpass the all-time high of 6.1 million coins set in January 2012.
Here's how some of the major gold and silver ETFs moved technically over the past week: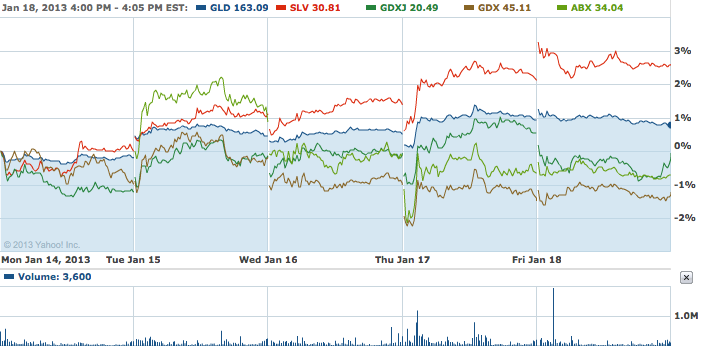 Investor Insight: Gold: Is The Bull Market Really Over?
If you would like to receive professional analysis on miners and other precious metal investments, we invite you to try our premium service free for 14 days.
Disclosure: Long EXK, AG, HL, PHYS