If gold's remarkable run is indeed over, it would be one of the smallest bull markets in recent history. On a percentage basis, the rise in gold over the past decade is smaller than the bull cycles of the Nikkei, Hang Seng, crude oil, homebuilding index, S&P 500, Nasdaq and gold's previous run in the 1970s. Furthermore, the participation in the current gold run is relatively small, but future demand is likely to support prices.
David Rosenberg, chief economist and strategist at Gluskin Sheff and Associates, explains in his 2013 outlook, "Moreover, gold makes up a mere 0.05 percent share of global household net worth, and therefore, small incremental allocations into bullion or gold-type investments can exert a dramatic impact. Gold cannot be printed by central banks and is a monetary metal that is no government's liability. It is malleable and its supply curve is inelastic over the intermediate term. And central banks, who were selling during the higher interest rate times of the 1980s and 1990s, are now reallocating their FX reserves towards gold, especially in Asia."
While headlines often focus on the central banks conducting bond purchasing programs, the entities buying gold should not be ignored. New data from the Census and Statistics Department of the Hong Kong government shows that gold imports by China totaled 91 metric tons in November, almost double October's haul. Depending on December's reading, total imports for 2012 could easily top last year's amount by 400 tons. Meanwhile, Japanese pension funds, the second-largest stack of retirement assets after the U.S., may increase their positions in gold-backed exchange-traded products to 100 billion yen by 2015, more than double the present amount. In general, central banks became net buyers of gold in 2009 for the first time in decades.
Here's a look at how the SPDR Gold Trust ETF (NYSEARCA:GLD) holds a support base around the $150 mark: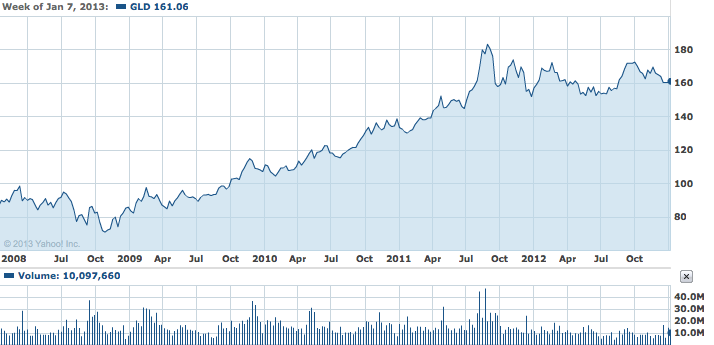 Considering the state of the world financial system and the increasing move towards hard assets, it is hard to believe that the bull market in gold is completely over. Pullbacks and corrections have and will occur, but it is too early to say gold's time to shine is done. Investors looking to strengthen their portfolio with gold should use consolidation periods to build positions.
If you would like to receive professional analysis on miners and other precious metal investments, we invite you to try our premium service free for 14 days.
Disclosure: Long EXK, AG, HL, PHYS
Investor Insight: Post-Fiscal Cliff: Congress Less Favorable Than Cockroaches