The debate over firearms has ignited a wave of emotions and political rhetoric over the past several months, but some people clearly feel more strongly about the issue than others.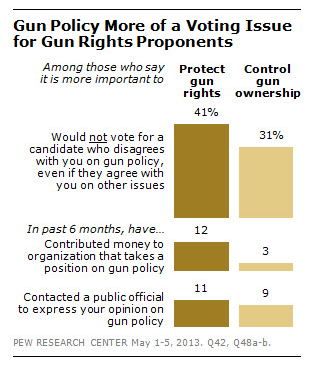 Gun rights advocates are highly likely to rule out a candidate with whom they disagree on gun policy. In a recent survey conducted by the Pew Research Center, 41 percent of gun rights supporters say they will not vote for a candidate that does not share their same views on gun control policies, even if they agree with the candidate on most other issues. Only 31 percent of gun control supporters say gun policy is a make-or-break issue.
Both sides of the gun debate appear willing to contact a public official to express their opinions on the matter, with 11 percent of gun advocates doing so, in line with 9 percent of gun control supporters. However, 12 percent of gun rights advocates say they contribute money to organizations that support a position on gun policy, which is four times the amount of gun control supporters.
The survey was conducted in early May, shortly after the Senate rejected a measure to expand background checks. Earlier this year, President Barack Obama and Vice President Joe Biden rolled out a wide-ranging list of executive actions regarding gun control. Obama also called on Congress to expand background checks on all gun sales, ban military-style assault weapons, and ban capacities of more than 10 rounds. After months of discussions and finger pointing, Congress did not answer Obama's call.