Amazon.com (NASDAQ:AMZN): Closing price $272.73
Amazon Web Services division provides cloud-based computing and storage to other firms, and is one of Amazon's fastest growing businesses, says the Wall Street Journal's "Heard on the Street." Macquarie calculates that  the segment had $2.1 billion worth of revenue last year, and will make $3.8 billion this year, marking an increase 81 percent. The consensus projection for Amazon's retail revenue is that it will soar by 25 percent to $73.6 billion. Macquarie predicts  that the market for AWS will touch $38 billion by 2015. Shares closed up 1.79 percent on the day at $272.73, and have been traded in a 52-week range of $172.00 to $269.73.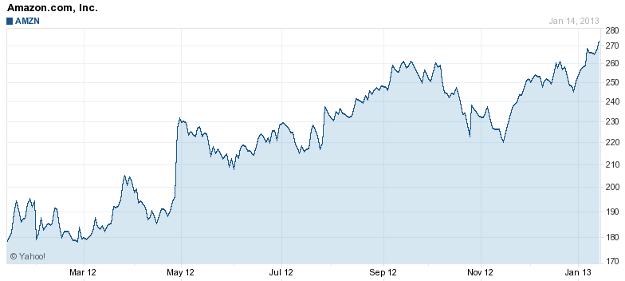 Start 2013 better than ever by saving time and making money with your Limited Time Offer for our highly-acclaimed Stock Picker Newsletter. Click here for our fresh Feature Stock Pick now!