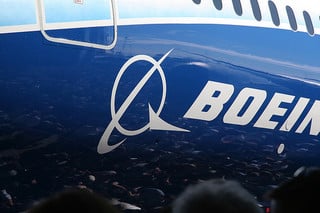 Boeing (NYSE:BA) received some positive investor attention after its fourth-quarter and full-year earnings report. The company's stock, which is off over 4 percent since the start of the year, climbed as much as 1.2 percent in morning trading.
Boeing grew its annual revenue 19 percent to a record $81.7 billion, with a backlog of $390 billion. Core EPS (non-GAAP) climbed 2 percent to $5.88 for the year. Core operating margins shrank 0.5 points to 8.8 percent, and operating cash flow climbed 64 percent to $7.5 billion, including $1.6 billion of pension contributions.
For the quarter, non-GAAP revenues grew 14 percent to $22.3 billion. Core EPS fell 24 percent to $1.46, which was ahead of estimates for EPS of about $1.19. The company's core operating margin fell 0.3 points to 8.3 percent for the quarter.
"Strong fourth-quarter operating performance capped a year of significant growth and solid execution, driving higher earnings and cash flow for our company," commented CEO Jim McNerney. "In a year of considerable achievement, Boeing was the commercial aviation market leader for both orders and deliveries, with more than 600 airplanes delivered."
But while Boeing's fundamentals look good, investors were also looking for information regarding the ongoing international investigation into the lithium-ion batteries on board new 787 Dreamliners…