Apple (NASDAQ:AAPL) continues to be the leader in the mobile enterprise market, while Google's (NASDAQ:GOOG) Android is beginning to make a significant impact as well, according to data from Good Technology. Good, which is an enterprise solutions company, collected data from 4,000 of its customers for the survey during the fourth quarter of last year.
The survey found that Apple was the "clear winner among enterprise users," with iOS-based devices accounting for approximately 77 percent of Good's total activations. The company's share grew from 71 percent in the fourth quarter of 2011. In addition, the top five devices activated in the quarter belonged to Apple.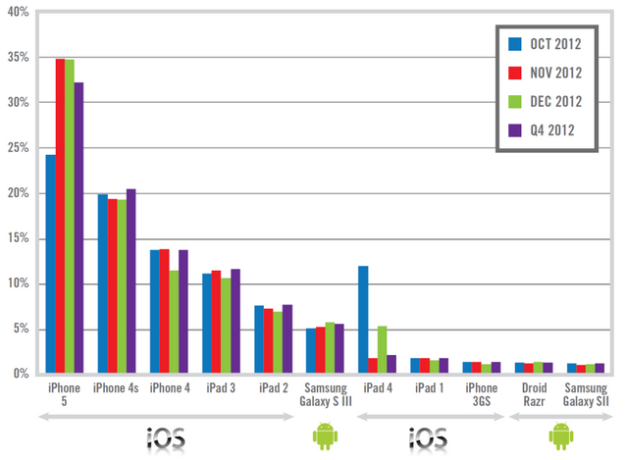 (Chart courtesy of Good Technology)
The iPhone 5 was the most popular device to be activated in the three months, making up 32 percent of the total. It was followed the iPhone 4S and iPhone 4, respectively. The third-generation iPad, which was released in March, came next, while the iPad 2 rounded out the top five.