"Many Americans are unsure if the health care law is still in effect," is an often-repeated headline. More than three years have passed since the Affordable Care Act was signed into law and less than one month remains before the key provision of the reform — the online insurance marketplaces or exchanges, open for enrollment — but research shows that the Americans are almost as confused about the reform as they were when it was drafted.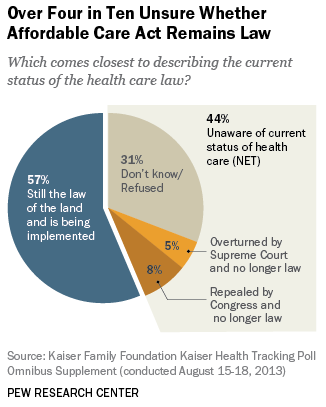 Data compiled by the Kaiser Family Foundation in its August 2013 Health Tracking Poll showed that roughly four in ten Americans — 44 percent — think either the Affordable Care Act has been repealed by Congress or overturned by the Supreme Court, or say they do not know whether it remains law or not, which was the answer of 31 percent of respondents. For context, the Republican-controlled House of Representatives has launched approximately 40 attempts to repeal or defund all or parts of the law, while the Supreme Court upheld the law by a 5 to 4 decision in June of 2012. Just 22 percent of adults ages 18 to 64 said they had heard "a lot" or "some" about the insurance exchanges. Comparatively, 45 percent said they knew "nothing at all about them."
With such a large percentage of Americans unsure about the legal status of the reform, it follows that slightly more than half of the American public, 51 percent, say they do not have enough information about the law — known popularly as Obamacare — to understand how it will impact them and their family. This percentage has remained largely unchanged since 2010.