What is the Value to Shareholders?
Shares of Yahoo popped more than 2 percent on the Goldman upgrade. Year-to-date, the stock price has gained about 17 percent, outperforming other tech names such as Microsoft (NASDAQ:MSFT), Google (NASDAQ:GOOG) and Facebook (NASDAQ:FB). Aside from short-term capital appreciation, Yahoo has been adding value to shareholders through buybacks. Terry also points out that Yahoo has repurchased 54 million shares this year for $860 million. Furthermore, the company is scheduled to buyback another $2.8 billion, using cash received from Alibaba deal.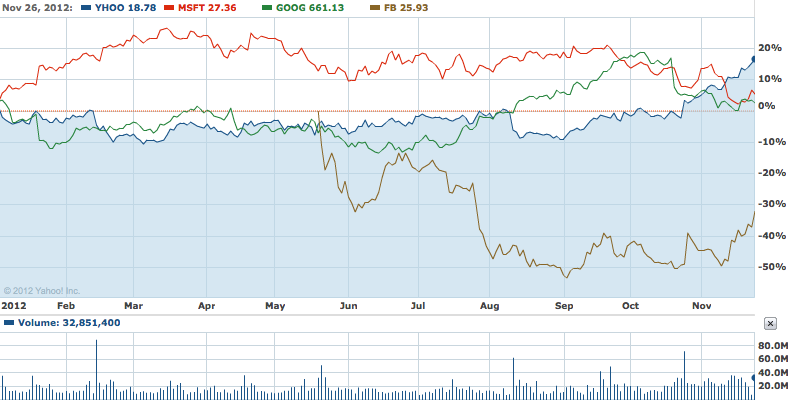 CHEAT SHEET Analysis: Does Yahoo Have Another "Catalyst for Stock Movement?"
One of the core components of our CHEAT SHEET Investing Framework focuses on catalysts that will move a company's stock. Short-term gains feel good, but many investors care more about the bigger picture. The current handling of capital allocation at Yahoo has been very positive for the company. Longer-term, investors and analysts appear to be gaining confidence in chief executive officer Marissa Mayer and her ability to bring excitement back to Yahoo.
Investor Insight: Apple Becomes Bigger Part of Thanksgiving Feast