Due to a wide range of issues, chief executive officers across the globe are feeling less confident about their company's growth prospects in the next 12 months, according to a new survey by PricewaterhouseCoppers.
The consulting firm's 16th Annual Global CEO Survey shows that only 36 percent of CEOs worldwide are 'very confident' in growth prospects over the short-term, compared to 40 percent last year and 48 percent in 2011. However, the current reading is still higher than the lows of 31 percent and 21 percent in 2010 and 2009, respectively.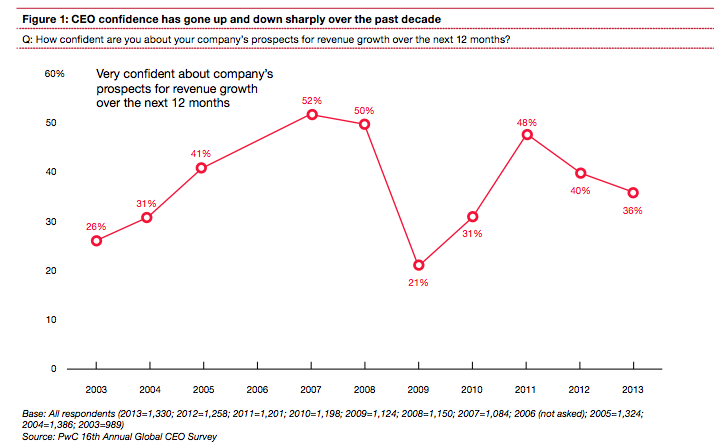 In recent years, the PwC Global CEO Survey has established itself as one of the main media highlights on the opening day of the Annual Meeting of the World Economic Forum in Davos. The survey interviewed more than 1,300 CEOs in 68 countries during the final quarter of 2012.
Longer-term confidence appears to be stronger, with 46 percent of CEOs feeling 'very confident' in growth prospects over the next three years, about the same as last year. Executives in Africa and the Middle East are the most confident at 62 percent and 56 percent, respectively. In North America, 51 percent of CEOs are 'very confident' about long-term growth, almost the same as the 52 percent in Asia. Not surprisingly, Europe has the weakest confidence at only 34 percent.
What about the overall economy…