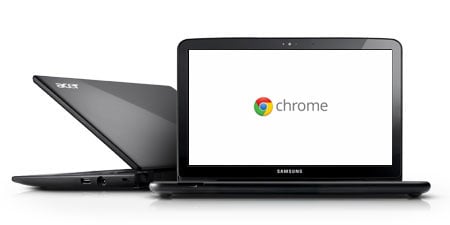 Microsoft (NASDAQ:MSFT) better keep on its toes – Google (NASDAQ:GOOG) Chromebooks are becoming the fastest-growing portion of the personal computer industry based on price.
Initially dismissed as bare-bones laptops with a lack of built-in software when introduced to the market in 2011, Chromebooks are now gaining share while the rest of the PC industry treads water. Sources told Digitimes that Chromebook shipments in the second half of this year are expected to double or even triple those in the first half as Acer, Lenovo, Hewlett-Packard (NYSE:HPQ), and Samsung (SSNLF.PK) are all reportedly preparing to launch new Chromebooks.
HP and Lenovo are both expected to increase their Chromebook orders in the second half, while Acer will raise its orders threefold and Samsung fourfold. Chromebook original design manufacturers Quanta Computer and Compal Electronics are also expected to enjoy a strong performance in the second half through these bolstered orders.