Asked how satisfied smartphone owners were with their current device platform, Apple's iOS came out on top. About 71 percent of iPhone users said they were very satisfied. Surprisingly, Microsoft's (NASDAQ:MSFT) Windows Phone took the second spot with a 53 percent satisfied section of users. Google's (NASDAQ:GOOG) Android was third with 48 percent very satisfied users and Research In Motion's (NASDAQ:RIMM) BlackBerry was next with 26 percent happy users.
Start 2013 better than ever by saving time and making money with your Limited Time Offer for our highly-acclaimed Stock Picker Newsletter. Click here for our fresh Feature Stock Pick now!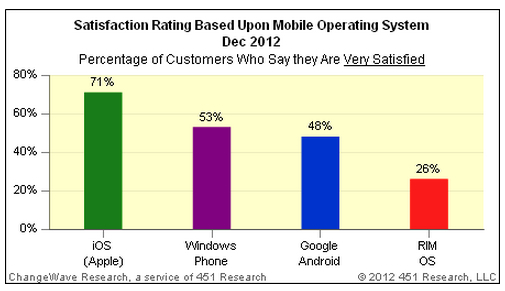 In terms of devices, 70 percent of iPhone users were happy with their phone. About 56 percent of Nokia (NYSE:NOK) users said they were satisfied, a little higher than the 55 percent figure for Samsung.
Don't Miss: Can Apple's Earnings Fix Its Broken Stock?