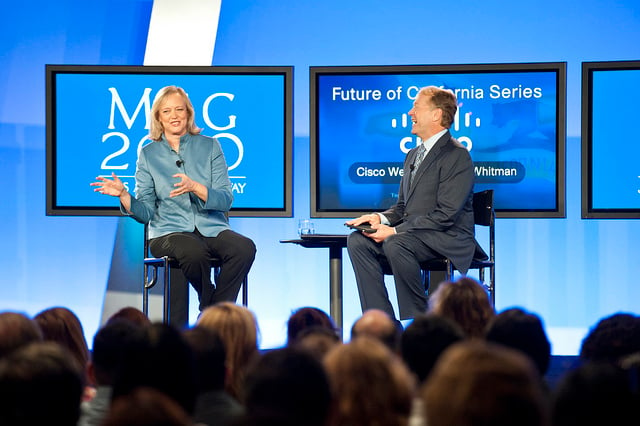 Hewlett-Packard's (NYSE:HPQ) filing with the U.S. Securities and Exchange Commission on Tuesday showed that Christmas came early for the company's third CEO in four years, Meg Whitman. After taking the helm at HP in September 2011, Whitman agreed to a salary of $1 for 2012, similar to a handful of other Silicon Valley executives.
However, now that the company is finally enjoying more much-needed stability, HP's board has decided to up Whitman's salary  to $1.5 million, effective as of November 1. According to Reuters, the filing says that the board members want to "bring Whitman's salary to a competitive level among the salaries of the chief executive officers of HP's peer companies."
HP's stock has picked up ever since Whitman joined the company in 2011, but it has performed especially well this year, rising a total of 93 percent and sitting at $27.45 at the opening of trading on Wednesday morning. Whitman is now waist-deep in a five-year turnaround effort that she spearheaded, and it is clear that HP's board is happy with how things are shaping up.
The HP restructuring strategy has led to layoffs, cost cutting, and expansion into new lucrative markets. The company's fourth-quarter earnings reveal that something is finally going right at Hewlett-Packard. CNET reports that the company reported profit of $1.4 billion, or 73 cents per share, on revenue of $29.1 billion last quarter, significantly higher than analyst expectations.