Due to low mortgage rates and inventory levels, the euphoria in the real estate market continues to build higher. In December, home prices increased on a year-over-year basis for the tenth consecutive month.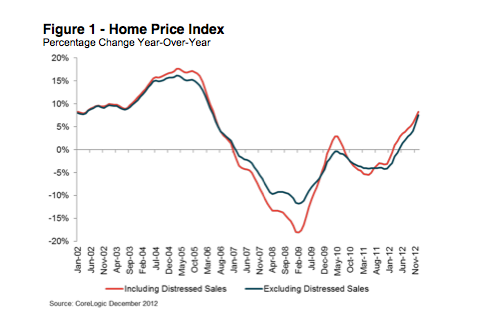 CoreLogic, a leading property information and analytics provider, reported its home price index gained 0.4 percent in December from the previous month. Compared to December 2011, home prices jumped 8.3 percent, the biggest increase in the index since May 2006. CoreLogic's data also shows that all but four states logged year-over-year price increases.
Excluding distressed sales, home prices gained 7.5 percent on a year-over-year basis in December 2012. On a month-over-month basis, home prices excluding distressed sales increased 0.9 percent from November.
Will the momentum continue this year…