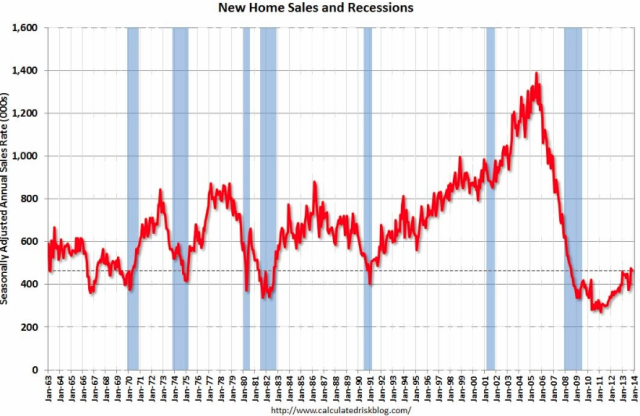 With higher interest rates and lower affordability, sales of new single-family homes in the United States headed lower in November, but still managed to beat expectations. Meanwhile, home prices reached another record high.
On Tuesday, the U.S. Census Bureau reported that purchases of new homes, measured by contracts signed, fell 2.1 percent to a seasonally adjusted 464,000-unit pace last month, compared to the impressive October rate of 474,000 units — the fastest pace since 2008. Home sales are up 16.6 percent from a year earlier, but as the chart above shows, the housing market is still far below its glory days.
The results were better than expected. On average, economists estimated home sales to come in at a 440,000-unit pace. The U.S. Census Bureau also reported the median sales price on new houses sold in November was $270,900, up 4.5 percent from $259,200 in October. The average sales price came in at a record high of $340,300, well above the average of $290,700 in November 2012. Shares of homebuilders across the board climbed higher after the results. Lennar (NYSE:LEN) and D.R. Horton (NYSE:DHI) both jumped more than 1 percent.