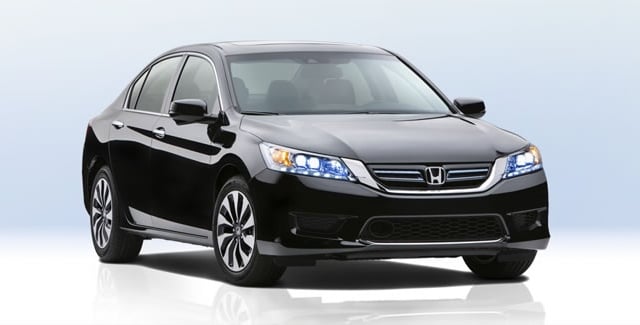 When Honda (NYSE:HMC) first started estimating the efficiency of its 2014 Accord Hybrid, the automaker took a slightly conservative approach. Honda expected 49 mpg in the city, which would make it impressive, yet only a notch or two above the Ford (NYSE:F) Fusion Hybrid. However, the numbers of Ford's cars have come under fire, and Honda is trumpeting its new hybrid as the segment leader months before it even hits showrooms.
Honda released a statement Friday morning that leaves no doubt about the company's opinion of its new hybrid. "For customers looking for a 50 mpg rated 4-door sedan, there is no other choice than the 2014 Accord Hybrid," said Mike Accavitti, senior VP of Honda USA Sales, claiming the new gas-electric hybrid was already surpassing the competition just as it began production in the company's Marysville, Ohio plants. The new hybrid is expected to arrive in dealerships later this fall.
The number 50 is significant because only the Toyota (NYSE:TM) Prius has ever hit that EPA estimate mark for vehicles not plugged in for charging. Ford's successful Fusion has has questions surrounding the actual performance of the hybrid model, said to be getting 47 mpg on both city and highway. According to street tests by AOL Autos, drivers were lucky to break 40 mpg. Nonetheless, Honda was looking up at both Ford and Toyota in terms of efficiency in the segment. The company's new Accord would change that.