Ford Motor Co. (NYSE:F): Current Price: $13.37
Ford Motor Company (NYSE:F) has announced a strategic collaboration demonstrating the ways a typical American family is able to significantly lower both their electricity bills and CO2 footprint via the integration of home appliance technology with a plug-in vehicle to achieve an energy-efficient lifestyle. The Ford-led MyEnergi Lifestyle collaboration is to include Eaton (NYSE:ETN), SunPower (NASDAQ:SPWR), and Whirlpool (NYSE:WHR). Additional featured companies include semiconductor provider Infineon and Nest Labs, which has its most recent learning thermostat represented in the research and implementation phase of the collaboration. MyEnergi Lifestyle attempts to show how combining renewable energy generation with "time-flexible" loads is able to optimize the energy consumption across a plug-in vehicle and home appliances.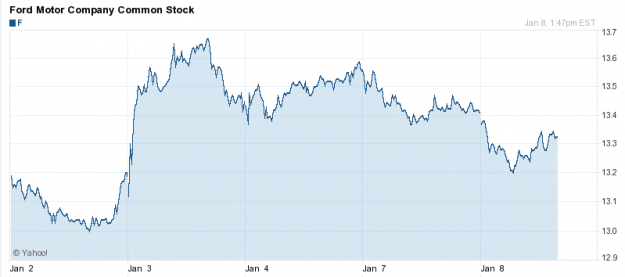 Save time and make money with our LOWEST ADVERTISED PRICE EVER to help you achieve your financial goals in 2013. This is a LIMITED TIME OFFER, so get your Stock Picker Newsletter now!