After logging impressive gains last year, homebuilders continue to climb higher as housing starts in December were stronger-than-expected.
According to the Commerce Department, builders broke ground on houses at a seasonally adjusted annual rate of 954,000 units last month, representing a 12.1 percent increase above the revised November estimate of 851,000. It is the highest pace of housing starts since mid-2008 and almost 37 percent above the December 2011 rate of 697,000.
Start 2013 better than ever by saving time and making money with your Limited Time Offer for our highly-acclaimed Stock Picker Newsletter. Click here for our fresh Feature Stock Pick now!
Economists surveyed by Dow Jones Newswires expected housing starts to come in at an annual rate of 890,000. Meanwhile, December's figure beat all forecasts in a Bloomberg survey of economists. Overall, construction began on 780,000 in 2012, a significant increase from 608,800 in the prior year, but still below the historic average of 1.5 million new homes per year since 1959. Furthermore, the actual number of housing starts on a non-seasonal adjusted basis declined in December from November.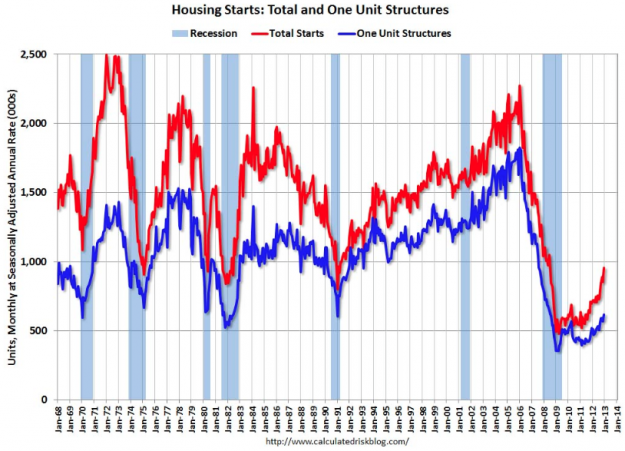 Single-family housing starts in December, the largest segment of the market, increased 8.1 percent to an annual rate of 616,000 units. Ground breaking on multi-family homes like apartment buildings surged 20.3 percent to an annual rate of 338,000.
Homebuilder stocks…