The Internet continues to evolve and impact our daily lives. While email and social networking appear to be a given, users are still becoming familiar with online shopping.
Although brick-and-mortar stores still account for the majority of retail sales, e-commerce is on the rise. According to a recent report from the U.S. Census Bureau, domestic online sales increased 4.4 percent to $59.5 billion in the fourth quarter, compared to $57 billion in the previous quarter. E-commerce sales accounted for 5.4 percent of the total $1.1 trillion retail sales in the final three months of 2012, representing the highest percentage since the Census Bureau started keeping track of online sales more than a decade ago.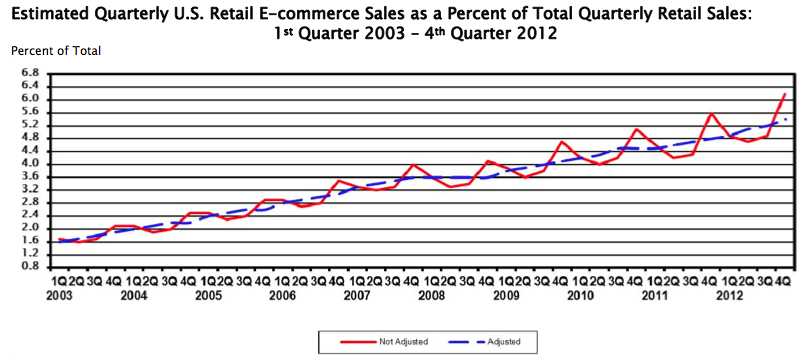 On a year-over-year basis, e-commerce sales in the fourth quarter jumped 15.6 percent,  nearly four times the 4 percent rise in total retail sales during the same period. Total e-commerce sales for 2012 came in at $225.5 billion, a 15.8 percent surge from 2011. Total retail sales grew only 5 percent last year.
These results are estimates, but they echo a report from comScore, a leader in measuring several aspects of the digital world. ComScore finds that e-commerce sales also jumped 15 percent for 2012, the strongest annual growth rate since before the recession.