Cisco Systems (NASDAQ:CSCO) reported quarterly financial results that managed to narrowly beat estimates, as the company continues at a slow and steady pace in a fragile global economy.
Late Wednesday, the worldwide leader in networking announced it earned $3.1 billion (59 cents per share) in its fiscal second quarter, compared to $2.2 billion (40 cents per share) a year earlier. Net sales increased a modest 5 percent to $12.1 billion, compared to $11.5 billion in the same period last year.
Excluding one-time charges, Cisco reported earnings of 51 cents per share, up from 47 cents per share a year earlier and 3 cents above analysts' average estimate of 48 cents per share on revenue of $12.06 billion.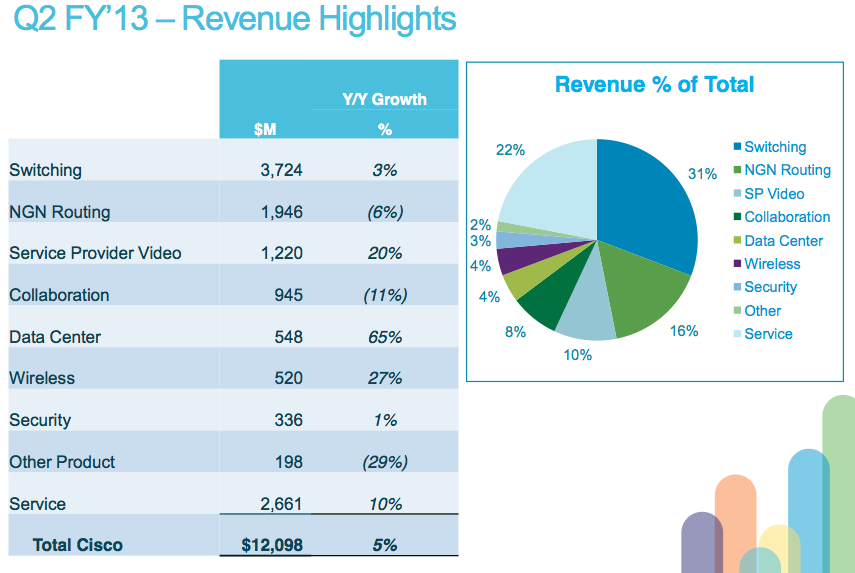 Cisco's bottom line was aided by $926 million (17 cents per share) from tax benefits. Meanwhile, the biggest revenue categories provided a mixed picture. The company's revenue from switches increased 3 percent to $3.7 billion, but router sales dropped 6 percent year-over-year to $1.9 billion. The two categories account for nearly half of Cisco's total revenue.
A few words of caution…