While the student debt bubble has yet to pop like housing, more cracks are appearing. New research shows that college loan debt is dramatically rising and becoming riskier than in past years.
FICO (NYSE:FICO), a company that provides analytics including credit scores, recently conducted a study to examine changes in student loans since 2005. To little surprise, the results were quite sobering. The sky-rocketing costs of college have been outpacing inflation for years. As a result, more consumers are taking out student loans to pay for their education. FICO finds that approximately 12 million Americans had two or more open student loans on their credit report in 2005. In 2012, this figure more than doubled to 26 million Americans.
Adding insult to injury, consumers also have a greater amount of student loan debt today. In 2005, consumers in the United States with at least one open student loan on record had an average student debt load of $17,233. However, this debt load increased 58 percent to $27,253 last year. In comparison, all other debt categories combined only grew 4.3 percent.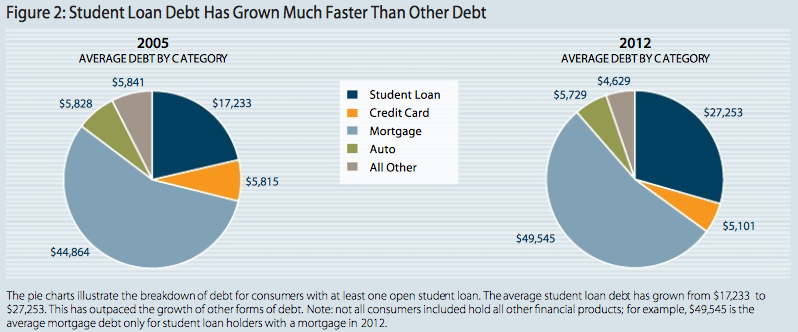 Every student balance level is on the rise…