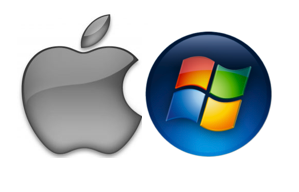 Apple (NASDAQ:AAPL) finished the week at 52-week lows after failing to "wow" Wall Street. Revenue increased 18 percent to $54.51 billion and net income came in $13.07 billion, up from $13.06 billion a year earlier.
Although Apple announced the highest revenues in company history and the fourth most profitable quarter of any company in history, this week's earnings were the first time in several years Apple has not posted a double-digit earnings increase year-over-year.
The prospects of slowed growth are making investors panic and have led to a late week selloff. Moreover, the S&P and Nasdaq are heavily weighted toward Apple, so Apple's future will ultimately impact the strength of the current market rally.
Some insist the latest numbers point to the fact that Apple is now a value stock instead of a growth monster. In short, many analysts are asking whether Apple is headed down Microsoft's (NASDAQ:MSFT) path.
Seabreeze Partners founder Douglas Kass was one such stock watcher making the comparison. "They're both maturing, large cash flow stories," Kass said on CNBC about the two companies. "In the late '80s, early '90s, Microsoft expectations were elevated similar to what Apple was, let's say, in the middle of 2012"…