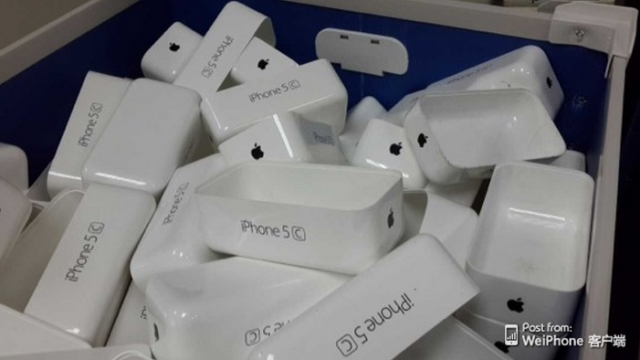 Another leaked image relating to Apple's (NASDAQ:AAPL) upcoming budget iPhone, or "iPhone Lite," has emerged online. Like many other previous leaks, this latest image comes courtesy of the China-based WeiPhone forums via Apple Insider. The image shows a bin full of white, plastic iPhone packaging that is labeled "iPhone 5C."
Some commentators have speculated that the "C" designator could be Apple's way of distinguishing its plastic iPhone from the upcoming flagship model that is expected to be named the iPhone 5S. Others have pointed out that the "C" might stand for "color," since multiple images of plastic iPhone casings in different colors have already been leaked online.
Previous leaks have depicted plastic iPhone casings that are white, red, green, blue, and yellow. Other leaks have purported to reveal the hardware specifications for the low-cost iPhone. PhoneArena obtained images of documents from the Chinese microblogging site Weibo that described an iPhone with a HP5 dual-core processor made by Samsung (SSNLF.PK), 1GB of RAM, FDD 4G connectivity, and a Bluetooth 4.0 capability.