With shares of Arch Coal Inc. (NYSE:ACI) trading at around $6.01, is ACI an OUTPERFORM, WAIT AND SEE or STAY AWAY? Let's analyze the stock with the relevant sections of our CHEAT SHEET investing framework: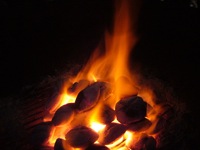 C = Catalyst for the Stock's Movement
Let's get all of the bad news out of the way first. The earnings report was no doubt an unmitigated disaster. The stock fell 12.84 percent after the news was released. Then we have industry competitors that are fighting tooth and nail for market share in a weak industry. On top of that, natural gas is making a move, and solar isn't far behind. Over the past eight years, there has been a significant drop in coal-generated electricity. This trend certainly won't reverse itself within the next four years because President Obama is fairly anti-coal (for environmental reasons). If that's not enough bad news, Arch Coal has poor margins, many analysts don't like the stock, the stock has performed poorly in a strong market, and there is a 20 percent short position on the stock. So…what could possibly make this a good investment?
The answer to that question can be summed up in one word, but as you might have guessed, that word won't be revealed yet. After all, what's a good story without any suspense? For now, let's look at smaller bits of good news, which are solid cash flow, an increased cash and liquidity position to $1.4 billion as of December 31, 2012, record performance last year delivered by the Western Bituminous region, and the expectation of metallurgical sales volume growth in 2013.
Now let's take a look at some important numbers for Arch Coal prior to forming an opinion on the stock…