While the CPI has been contained under Bernanke's term, the price of gold has exploded. The precious metal has strong price swings that make it less than perfect as an inflation gauge in the short-term, but when central banks inject trillions of dollars into the financial system with a few key strokes, it serves as a major catalyst.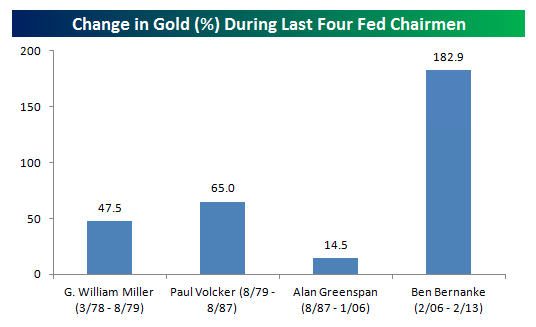 As the chart from Bespoke Investment Group shows, the price of gold under Bernanke's  term has climbed almost as high as during the previous three chairman combined. This is not a pleasant sign for the U.S. dollar's purchasing power.
Don't Miss: Are Gold Bugs Sweating Bullets Over February?
If you would like to receive professional analysis on miners and other precious metal investments, we invite you to try our premium service free for 14 days.
Disclosure: Long EXK, AG, HL, PHYS