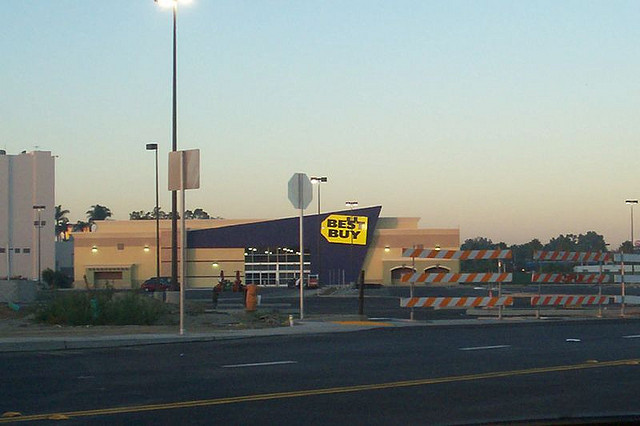 Best Buy's (NYSE:BBY) stock price has more than doubled since hitting a low of $11.20 in December. The stock has quickly become a darling of Wall Street: Its charismatic new CEO, Hubert Joly, has fueled recent investor optimism. But with the highly competitive dynamic of the consumer electronics retail space and mixed reviews out on Best Buy's first-quarter earnings report, does the stock justify its impressive price climb? Let's use our CHEAT SHEET investing framework to decide whether Best Buy is an OUTPERFORM, WAIT AND SEE, or STAY AWAY?
C = Catalysts for the Stock's Movement
The biggest catalyst for Best Buy's historic price climb has been the marriage between Wall Street analysts and newly appointed Joly. Despite intense competition in the consumer electronics retail industry, Best Buy has outlined a restructuring effort, known as "Renew Blue," which is streamlining its operations by selling off its European division, cutting costs, and introducing a price-matching initiative. So far, the company has seen little material results on this program but investors and analysts are optimistic.
E = Excellent Performance Relative to Peers?
Best Buy is actually trading at a reasonable forward price-to-earnings multiple relative to its main competitors, Walmart (NYSE:WMT), Amazon (NASDAQ:AMZN), and Costco (NASDAQ:COST). A potential reason for this may be because Best Buy does not have high growth potential. On the other hand, the company could still have more room to go up in price and is undervalued at the moment. Currently, Best Buy enjoys a healthy return on assets percentage and operating margin — even though this margin has declined due to its recent price cutting initiative.
| | | | | |
| --- | --- | --- | --- | --- |
| | BBY | WMT | COST | AMZN |
| Forward P/E | 12.41 | 12.85 | 21.96 | 88.76 |
| Operating Margin | 2.15% | 5.93% | 2.91% | 1.04% |
| ROA | 4.62% | 8.73% | 6.59% | 1.71% |