With shares of Corning (NYSE:GLW) trading at around $12.63, is GLW an OUTPERFORM, WAIT AND SEE or STAY AWAY? Let's analyze the stock with the relevant sections of our CHEAT SHEET investing framework:
C = Catalyst for the Stock's Movement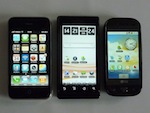 The big news for Corning is Gorilla Glass 3, which is expected to be released at the International Consumer Electronics Show in Las Vegas next week. However, we don't need to wait for it to be released to know the details. Gorilla Glass 3 will be more durable and thinner than previous generations. The glass will be 50 percent stronger than Gorilla Glass 2, which is saying a lot. Gorilla Glass 3 will also possess enhanced scratch resistance and reduced scratch visibility.
Save time and make money with our LOWEST ADVERTISED PRICE EVER to help you achieve your financial goals in 2013. This is a LIMITED TIME OFFER, so get your Stock Picker Newsletter now!
At the current time, the vast majority of Corning's net income comes from HDTVs. The reason Gorilla Glass 3 is important, and might act as a catalyst, is because Corning is continuously growing in the mobile market. To date, Corning's display screens have been featured in over 1 billion devices. Amazingly, that number is likely to grow. Corning should benefit most from smartphone growth. Also be on the lookout for Willow Glass in the future, which will be as thin as a sheet of paper.
Let's take a look at some important numbers for Corning.