In order to improve its existing Web-search formula, Google Inc. (NASDAQ:GOOG) is making adjustments to how its search engine operates.  Over the course of the next few months, Google's search results will aim to present users with more facts and direct answers to queries, as opposed to just displaying a list of lifeless blue links.
In what is being called one of Google's biggest changes in company history, the search king is actually becoming more similar to Microsoft's (NASDAQ:MSFT) Bing service.  Google will still have its current keyword search system, but aims to provide more relevant results to users by implementing technology called "semantic search."  This feature refers to the process of understanding the actual meaning of words.  It can also help associate different words with one another.  As a result, Google will provide answers at the top of search results relating to queries.  This is similar to Microsoft, because Bing operates as a "decision engine."  Bing's website even says, "Let Bing help you search and find, because you're finished with a sea of blue links, and want the shortest route to getting things done."
Don't Miss: Walmart Raises Heat on Netflix and Coinstar
If Google's massive database is unable to provide answers to certain search queries, the company will combine the new semantic search technology with its current system to provide better results, instead of a sea of blue links.  In an interview with the Wall Street Journal, Google executive Amit Singhal explained that Google search will look more like "how humans understand the world.  Today, we cross our fingers and hope there's a Web page out there with the answer."  A person familiar with the new plans, explained that the change to semantic search could impact search results for as many as 20 percent of all search queries, or tens of billions per month.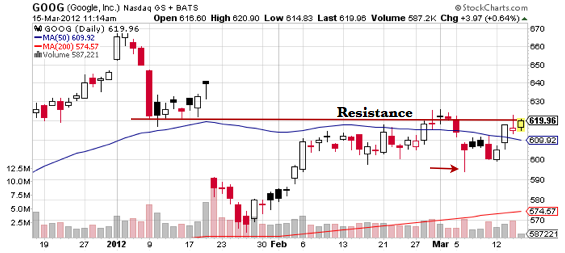 Shares of Google edged about .80 percent higher on Thursday after the news, but continue to meet resistance near $620 per share.  In a February 22 article, we warned readers that Google may experience a pullback as $620 resistance comes into play.  This scenario turned true as shares topped out at $625 on March 1 and reached as low as $593 on March 6.  As the chart above shows, Google is once again at this key resistance level and will need a significant breakthrough to challenge its 52-week high of $670 per share.
The new changes to Google's search engine may provide the stock with the catalyst it needs to challenge its 52-week high.  Long time Wall St. Cheat Sheet Readers know, a 'Catalyst for a Stock's Movement' is the 'C' in our CHEAT SHEET investing framework.  As seen in Apple's (NASDAQ:AAPL) Siri technology, people enjoy using technology that has a sense of awareness.  Even though Siri can be less than stellar at times, it provides users with quick and relevant search results.  If Google can direct more appropriate search results towards users, the company may also be able to capitalize on better placed ads, which could improve its bottom line.
According to the WSJ, "The coming shift has major implications for Google, which dominates the Internet search market with around 66% market share and more than 75% of all search-ad revenue. The Mountain View, Calif., company has succeeded because of the strength and ease of its keyword-search technology, which in turn fueled Google's search ads, which appear next to search results. That business now generates the majority of Google's $37 billion in annual revenue."  Google also competes with Yahoo! Inc. (NASDAQ:YHOO) and Baidu Inc. (NASDAQ:BIDU).
Investor Insight: The New iPad Could Boost These Content Providers
To contact the reporter on this story: Eric McWhinnie at staff.writers@wallstcheatsheet.com
To contact the editor responsible for this story: Damien Hoffman at editors@wallstcheatsheet.com