With shares of Intel (NASDAQ:INTC) trading between $20 and $21.50 for the past month, is INTC a BUY, a WAIT and SEE, or a STAY AWAY? Let's analyze the stock with the relevant sections of our CHEAT SHEET investing framework:
C = Catalyst for the Stock's Movement:
With steadily increasing tablet sales making the predictions for the end of the PC-era a reality, one analyst after another has lowered price targets for the semiconductor manufacturer. On December 20, Evercore Partners analyst Patrick Wang cut estimates on Intel, Advanced Micro Devices (NYSE:AMD) and Nvidia (NASDAQ:NVDA), citing continuing soft demand for personal computers and on November 29, analysts at Citigroup dropped their target to $21 and Goldman Sachs analysts slashed their target to $16.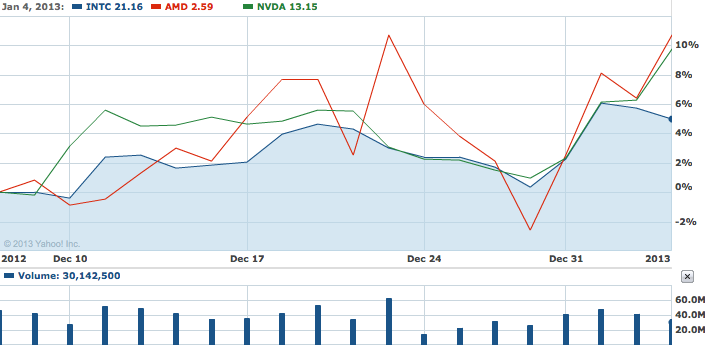 But Wells Fargo analyst David Wong has predicted a different future. On Monday, he placed the company's valuation range between $28 and $33 per share, reiterated an Outperform rating, and called the stock his top pick.
Catalysts are critical to discovering winning stocks. Check out our newest CHEAT SHEET stock picks now.
"We think secular themes such as cloud computing and data traffic created by mobile computing (notebooks, tablets and smartphones) could drive x-86 server-related processor growth in the mid-teens percentage range over the next several years," Wong wrote in a research note seen by Barron's, "the server processor market has grown from below $2 billion in 2002 to a run rate of the order of $10 billion a year in 2012."