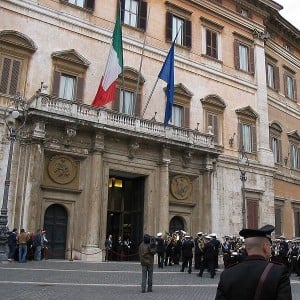 Politics and economics are an unhappily married couple, and for better or worse the status of one informs the other. This was evidenced at the beginning of the week by the results of the elections in Italy, which threw global markets into confusion. As Europe's third-largest economy, and as a nation suffering a debt crisis and double-digit headline unemployment, international investors have a vested interest in the economic — and therefore political — status of the country.
First, for a little bit of context: Italy just held a significant vote, which redrew the lines of power established after former Prime Minister Silvio Berlusconi was forced to resign and Mario Monti assumed power. The race was pretty much between Berlusconi's conservative party, the center-left Democratic Party led by Pier Luigi Bersani and largely aligned with Monti's centrist coalition, and the more-or-less anti-establishment Five-Star Movement led by Beppe Grillo. Or, in even broader terms: the right, the left, and the middle.
Monday's market confusion was catalyzed by early polling that showed the center-left Democratic party leading the race. This is the party favored by international investors because of their pro-austerity stance. The austerity measures adopted by Monti — an economist who led the government of technocrats that stepped in to try to solve the nation's debt crisis — were largely a condition required by creditors like the European Central Bank and International Monetary Fund, who are helping orchestrate and fund the country's recovery.
But austerity sucks, and Italian voters voiced their dissent with the measures in the election…