With shares of Life Technologies Corporation (NASDAQ:LIFE) trading at around $60.79, is LIFE an OUTPERFORM, WAIT AND SEE or STAY AWAY? Let's analyze the stock with the relevant sections of our CHEAT SHEET investing framework:
C = Catalyst for the Stock's Movement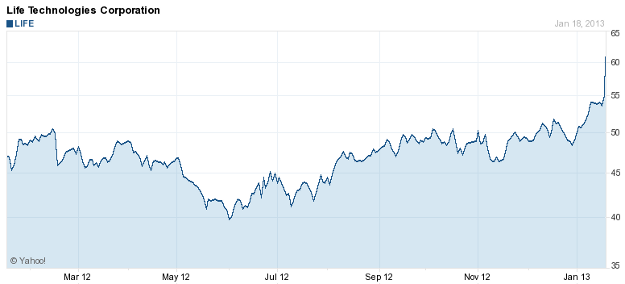 Life Technologies was one of the hottest stocks last Friday, enjoying a 10.59 percent gain. This was due to rumors that the company was in talks with private equity firms and healthcare companies about a potential sale. Rumors of potential buyers included Danaher Corp. (NYSE:DHR) and General Electric (NYSE:GE). Neither chose to comment on the rumor. General Electric has a policy never to comment on any rumors of this nature, which makes it difficult to tell if there is any real potential. We do know that General Electric is constantly looking to grow in many different areas, and that it wants to be a leader in future technologies. In this case, Life Technologies is attractive because its technology has the ability to create a blueprint of someone's DNA. This can lead to disease diagnosis, risk identification, and increased accuracy for target medicines. There is no doubt that there is great value here. However, the buyout range being thrown around at the moment is anywhere from $55 per share to $70 per share. Considering the stock is currently trading at $60.79 per share, there is more upside than downside. However, there is still downside potential, and there is a pretty good chance that nothing will happen in the immediate future.
Assuming there is no buyout soon, let's take a look at Life Technologies as it stands on its own.
Start 2013 better than ever by saving time and making money with your Limited Time Offer for our highly-acclaimed Stock Picker Newsletter. Click here for our fresh Feature Stock Pick now!