With shares of Nuance Communications (NASDAQ:NUAN) trading at around $20.00, is NUAN an OUTPERFORM, WAIT AND SEE or STAY AWAY? Let's analyze the stock with the relevant sections of our CHEAT SHEET investing framework:
C = Catalyst for the Stock's Movement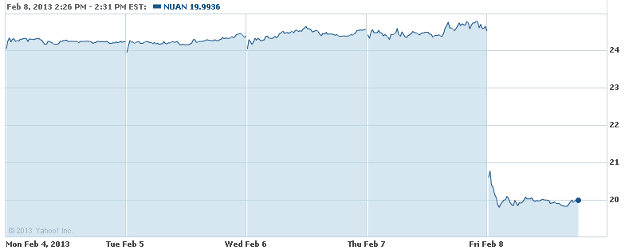 Nuance Communications didn't have a memorable day last Friday – unless you were shorting the stock. The stock got hammered by more than 18 percent. As is usually the case with big downward moves during earnings season, weak guidance was the primary reason for the fall. FY2013 EPS was lowered to a range of $1.76 to $1.87, from $1.84 to $1.94, and FY2013 revenue expectations were lowered by $25 million. Is this bad news? Yes. Is it reason to panic? No.
For Q1, Nuance Communications reported a net loss of $22.1 million, or $0.07 per share. Q1 revenue was $462.3 million. EPS was obviously a disappointment, but revenue increased 27 percent year-over-year. In addition to that, operating cash flow increased 37 percent, healthcare revenue increased 49.6 percent, mobile and consumer revenue increased 21.4 percent, enterprise revenue increased 10.4 percent, and imaging revenue increased 13.7 percent. This hardly looks like a company that's in trouble when it comes to the long term.
The company's speech recognition software is used in Apple (NASDAQ:AAPL) iPhones, which is a big plus. Apple's growth does seem to be slowing, but it's important not to put too much weight on that aspect of the business since Nuance Communications is highly diversified. By the way, the same speech recognition software is used in Samsung (SSNLF.PK) smartphones, tablets, and smart TVs.
Let's take a look at some important numbers prior to forming an opinion on this stock.