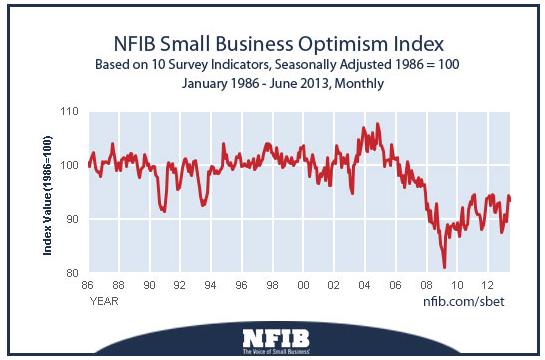 After two months of incremental gains, optimism among small business owners declined last month. Small firms across the nation cite taxes and government red tape as their top problems, with Obamacare leading the way.
The National Federation of Independent Business, the leading nonprofit small business association representing small and independent businesses, reported that its Small Business Optimism Index fell nearly one point in June to reach 93.5, compared to 94.4 the previous month. June's reading is 12 points higher than the lowest point seen during the recession but seven points below the pre-2008 average.
In December, the index sank to 88.0, the second-worst reading since March 2010. In the 46 months of economic expansion since the beginning of the recovery in July 2009, the index has averaged slightly above 90.0.
Although optimism among small business owners remains above the average, government policies are still seen as a major hurdle. Corporate profits are surging, but consumers and small businesses still face too much doubt about the future and are receiving little help from lawmakers.