With shares of TD Ameritrade Holding Corporation (NASDAQ:AMTD) trading at around $18.95, is AMTD an OUTPERFORM, WAIT AND SEE or STAY AWAY? Let's analyze the stock with the relevant sections of our CHEAT SHEET investing framework:
C = Catalyst for the Stock's Movement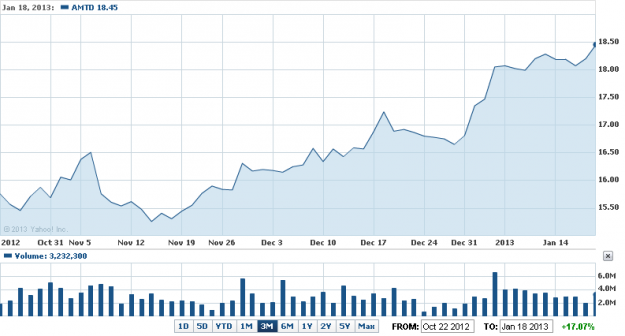 The news released today has been digested as good. The stock is up almost 3 percent at the time of this writing. Q1 EPS was $0.27, which beat the estimate of $0.24. However, revenue was lower by 0.3 percent on a YoY basis, coming in at $651 million.
A big positive was a decline in operating expenses mostly due to lower employee compensation and a decrease in advertising expenses. There were many other positives as well. These positives included an 18.3 percent increase in total client assets, a 52.9 percent increase in new client assets, a 6.4 percent increase in net interest revenue, a 9.2 percent increase in average spread-based balance, and a 28.4 percent increase in average fee-based balance.
Start 2013 better than ever by saving time and making money with your Limited Time Offer for our highly-acclaimed Stock Picker Newsletter. Click here for our fresh Feature Stock Pick now!
While there were a lot of increases, there was still a decline in daily average revenue trades, which helped lead to a decrease in revenue. As far as EPS goes, it can always be manipulated. Revenue is more important. There was also a 1.58 percent decrease in net interest margin. All the increases above might be positives, but TD Ameritrade's primary focus is to generate revenue through trading. It's good to see that expenses have been cut, but it would better to see more organic growth. TD Ameritrade's association with The Toronto-Dominion Bank (NYSE:TD) has the potential to help in that area.   
Let's take a look at some important numbers so we can get a better idea of the big picture for TD Ameritrade.