Our recent calls for a bottom have been proven wrong as precious metals plunged to another new low. Two trading rules we have is to always use a 20 percent stop and never add to a losing position. Note our previous article in which we said use the late May low for a stop. This helps minimize risk and potential losses, though we have a handful of small losses trying to anticipate the coming rebound. We always admit mistakes to subscribers and we never blame manipulation. That is just unprofessional. All being said, a close examination of history tells us that this could be the final capitulation that would lead directly to a huge rebound in the ensuing months.
Below we plot the four major downturns within the two secular bull markets in gold stocks. The HUI is now down 64 percent since 2011 and just surpassed by inches (in time and price) the 1968-1970 downturn. The Barron's Gold Mining Index lost 67 percent from 1974-1976 before rising nearly 700 percent over the next four years.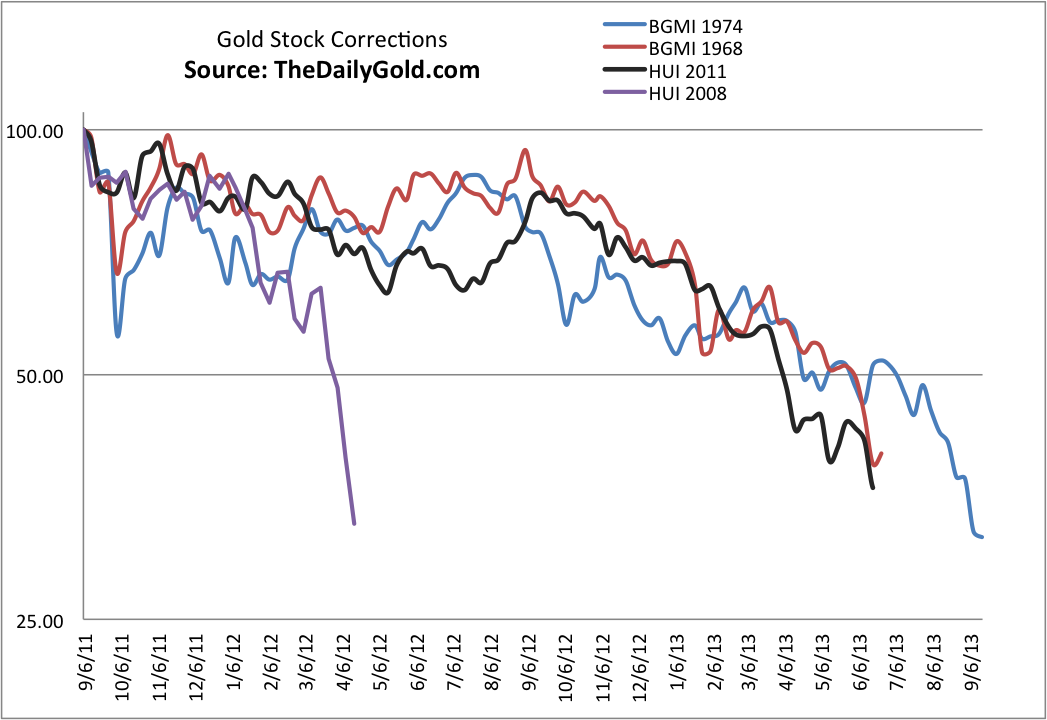 A 67 percent downturn would take the HUI down to 210. Interestingly, Fibonacci analysis shows that 210 lines up exactly with the HUI's 2012 low and 2011 high. So 210 is a target to keep in mind. The GDX equivalent is $21.64.