Young adults certainly hold more than their fair share of student debt, but they are deleveraging more than older adults in other areas of life.
It is too soon to tell if the trend will continue, but those under 35 years old are reducing debt loads substantially faster than older adults, according to a recent report by the Pew Research Center. From 2007 to 2010, the median debt of households headed by those under 35 dropped 29 percent, compared to an 8 percent decline by households headed by those 35 and older.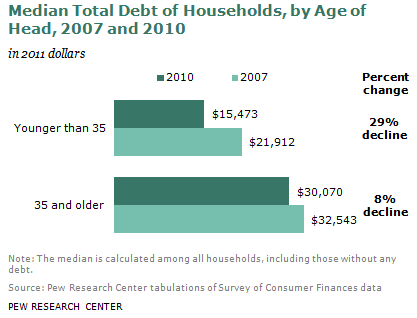 The report explains, "Debt reduction among young adults during bad economic times has been driven mainly by the shrinking share who own homes and cars, but it also reflects a significant decline in the share who are carrying credit card debt, from 48 percent in 2007 to 39 percent in 2010." In comparison, older households carrying credit card balances declined from 45 percent to 40 percent in the same time period.
In addition to a lower percentage of younger households carrying credit card debt, the median outstanding amount owed has declined over the decade from $2,500 in 2001 to $2,100 in 2007. In 2010, the average balance owed was $1,700 among younger households.