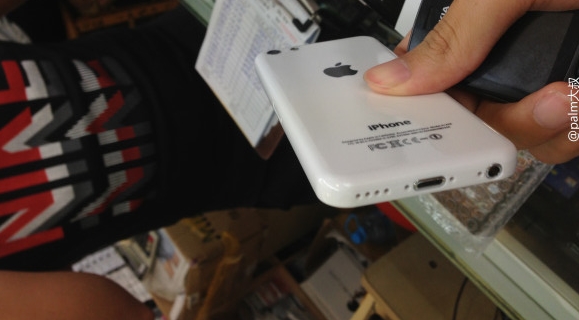 The flood of leaked pictures showing Apple's (NASDAQ:AAPL) rumored upcoming plastic iPhone, or "iPhone Lite," continues unabated today. The latest image was discovered on the Chinese microblogging site Weibo by iphone5skopen, and reported by Apple Insider.
The image shows a white plastic iPhone similar to what has been seen in previously leaked images. However, there are a few differences that indicate this may be a genuine Apple product. This latest image appears to show various certification markings on the rear casing, including one from the FCC.
The "iPhone" text printed on the casing also appears to be in a thicker font than what has been seen in previous leaks. It was assumed that the thinner "iPhone" casing text seen in other leaks was part of the overall design philosophy change that was implemented in Apple's iOS 7. However, it's quite possible that Apple decided to thicken the font on the casing, much in the same way that it changed iOS 7's font to a thicker style after users complained that the original font made text practically unreadable.