Although Congress reached a temporary deal on the fiscal cliff at the beginning of the year, pessimism among small business owners has yet to fully recover and remains near the worst levels in recorded history.
The National Federation of Independent Business, the leading nonprofit small business association representing small and independent businesses, said its Small Business Optimism Index edged 0.90 points higher to 88.9 in January, compared to 88.0 in the previous month. January's reading is still within earshot of the pessimism seen in December, which was the second worst reading since March 2010.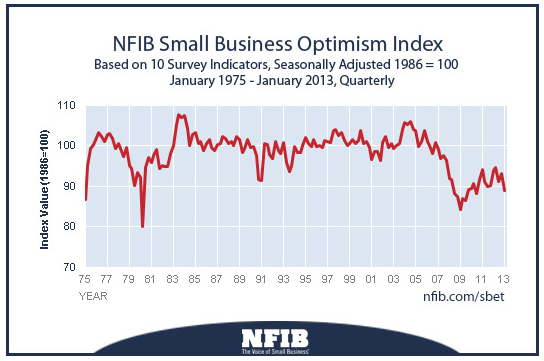 Congress reached a mini-deal on the fiscal cliff, which includes higher taxes, but the spending cuts are coming back into focus as they are set to begin March. The cuts are feared to weigh on an already weak economy. Earlier this month, the Commerce Department reported the U.S. economy shrank in the fourth quarter for the first time in three and a half years.
A weak economy means a dismal outlook for jobs…