More than five years ago, the stock market peaked and took a plunge into the abyss that will haunt investors for years to come. Even though stocks have clawed their way back to fresh all-time nominal highs, retirement planning is taking on a more conservative approach.
The days of getting rich fast and retiring early are long gone for the majority of Americans. Today, a whopping 88 percent of pre-retirees and retirees say their financial goal is simply "saving enough to have financial peace of mind," according to a new study from Bank of America's Merrill Lynch. Only 12 percent would like to "accumulate as much wealth as possible."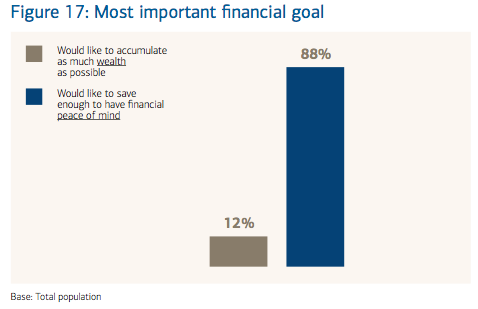 The study was completed earlier this year in partnership with Age Wave, a leader in understanding the aging population. More than 6,300 respondents aged 45 and older were polled.
The wide difference is likely the result of the worst financial crisis since the Great Depression. The dangers of aggressive investment strategies are firmly planted in the minds of Americans, with events like the infamous Flash Crash highlighting technological and regulatory shortfalls.